RE-SHARPENING / MAINTENANCE
We have a track record of re-sharpening
more than 1,000 pieces a year with scissors alone.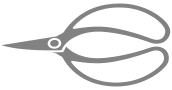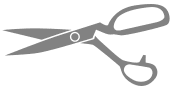 Scissors maintenance
At Yoshioka Knife Mfg. Co., Ltd., we make scissors so that they can be used for a long time, but daily maintenance and regular maintenance are important for long-term use.
Re-sharpening

maintenance
How to care for yourself
See strain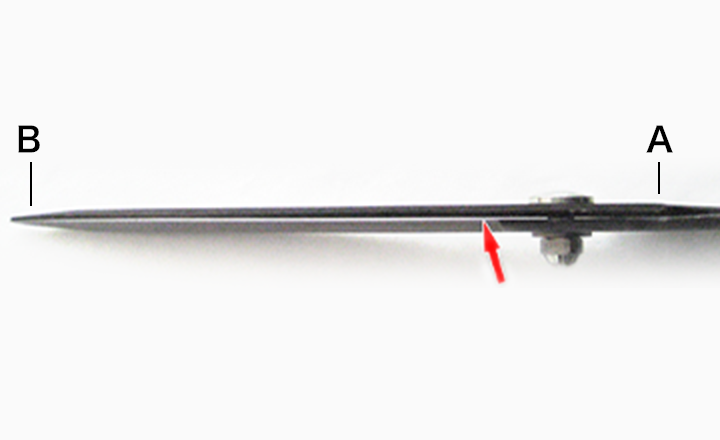 The best condition is that the gap between the scissors is open from the back to the tip of the screw.
If the distortion is clogged, the blade and the blade will not hit in order from the clogged part, so it will not cut.
1

Preparation for care

In maintenance, we remove small rust, scratches on the blade, wood tar and dirt,
and not only sharpen the blade but also adjust the alignment and rubbing of the blade.

Tools to use

Whetstone (roughness is not specified) Please use the whetstone you are currently using.

A diamond grindstone is also acceptable.

Camellia oil (oil for cutlery)

Reduces rust and wear and smoothes movement

Box wrench 10

Used to remove screws from one-handed scissors.
You can also sharpen without removing the screws.

Box wrench 12

Used to remove the screws of both hand scissors.
The size of the box wrench may differ depending on the manufacturer.

Before we start sharpening

Before sharpening, remove tar stains with a knife cleaner.
Never sharpen the back of the scissors.
切It may cause the sharpness to drop or the blade to spill.

2

Small blade sharpening

When sharpening the blade, be careful not to get injured.

If you sharpen the small blade, burrs will appear.

If you sharpen the blade thinly, it will bite into the branches and leaves better, but it will be easier for the thin blade to spill.
If you sharpen the blade thickly, the bite will be worse and the sharpness will be reduced, but the thicker the blade will be less likely to spill.

3

Back of the blade

After sharpening the small blade, if you do not push it back, the blade may bite or the blade may spill.
The blades are backed so that the burrs do not bite each other. The backing angle should be about 15 to 20 °.
The size should be 0.3 to 0.5 mm.

If the back is small, it will cut well (recommended for leaf cutting), but the blade will easily chip.
If the back is large, the sharpness will be reduced (for twigs and branches), but the blade will not be easily chipped.
If the back is made too large, the sharpness will be restored only by sharpening the small blade.

Be sure to sharpen the back even if the small blade is sharpened with a two-step blade.

4

Add oil to the finish

Apply sticky oil to the entire front and back of the scissors, especially where they meet.
Apply oil to the threads between the scissors.